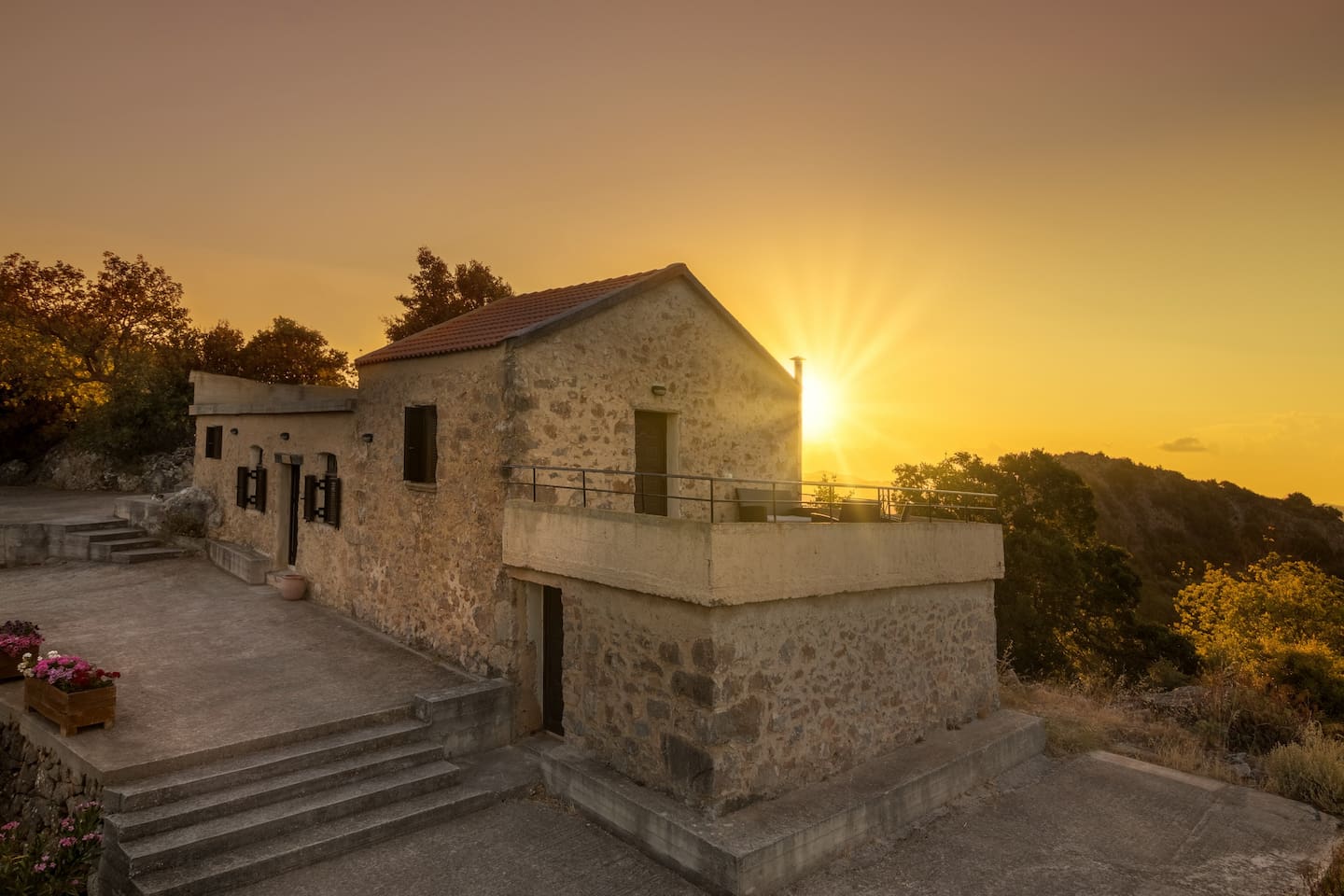 Welcome to
Lithari Stone Villa
A beautiful stone villa in Chania, Crete, for family vacation, ideal for hiking and trekking combining mountain and sea view.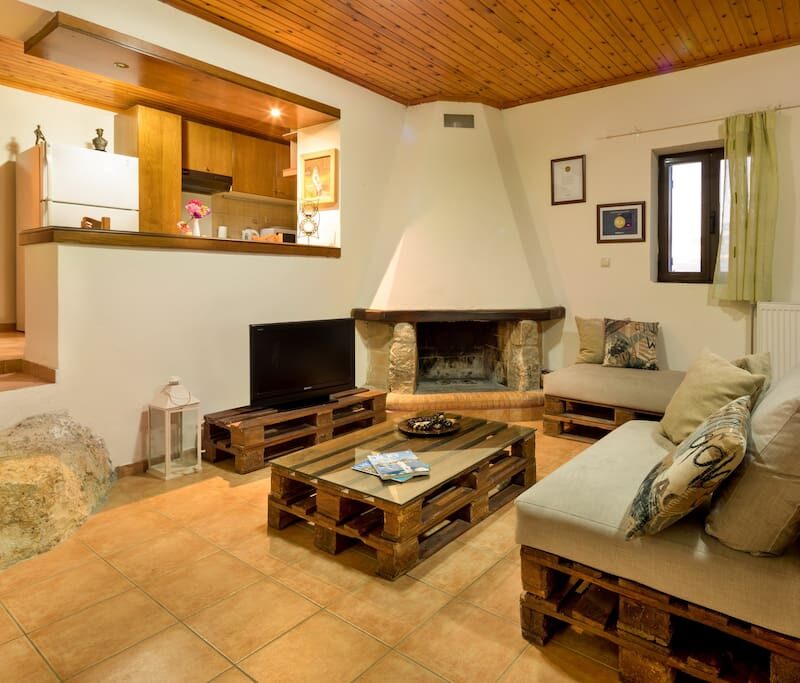 Stone Villa on Chania
A beautiful stone villa on Chania for family vacation. It is 20kms from the center of Chania, approximately 33 km from the airport and 16 km from the nearest beach. It is ideal for hiking and trekking combining mountain and sea view.
Our Location
The villa is located in the village Kampoi on a hilltop. The nearest airport is Chania International Airport, 33 km from the property and the nearest beach is in Kalives 16 kms away.
The house is 15 minutes drive from the village Stilos which has tavernas. A super market and a medical station are 20 minutes drive from the house at the village Kalives. There you can access a lovely beach.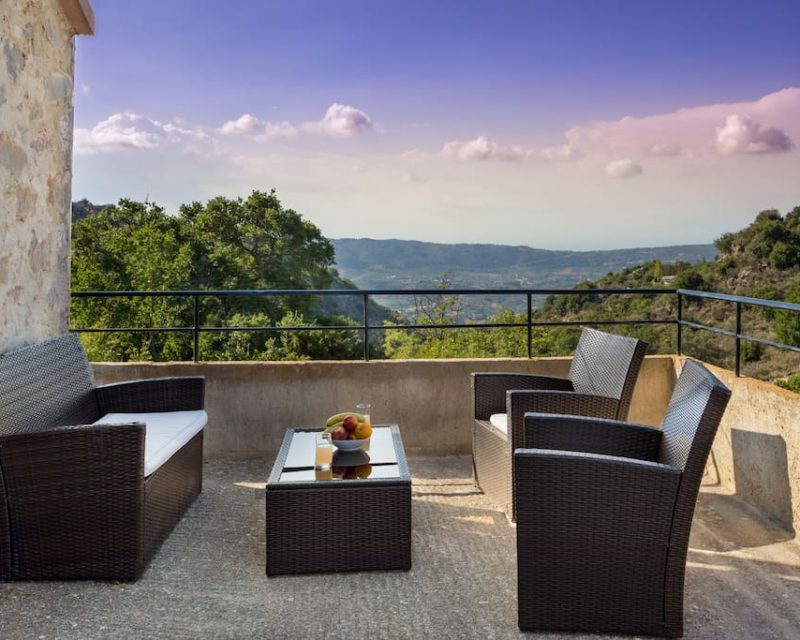 Traditional Stone Villa on Chania Crete
Enjoy your vacations on Cretan nature of a small village on our traditional stone villa with incredible view on the sea and the white mountains!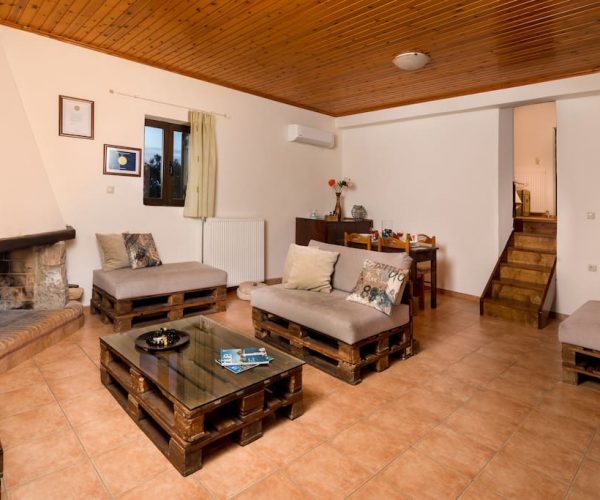 The stone villa is split in 2 levels. On the ground floor, there is a fully equipped kitchen, a bathroom, a bedroom, and a living area with a satellite TV.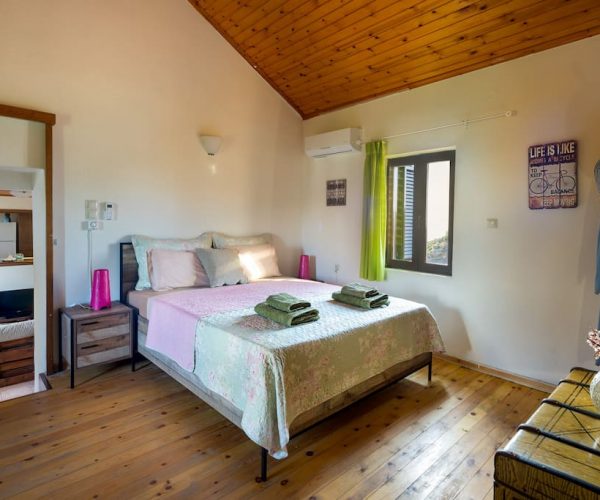 On the upper floor, there are one bedroom, a and a large veranda with sea and mountain views. Air conditioning is provided. Free WiFi is available throughout the property.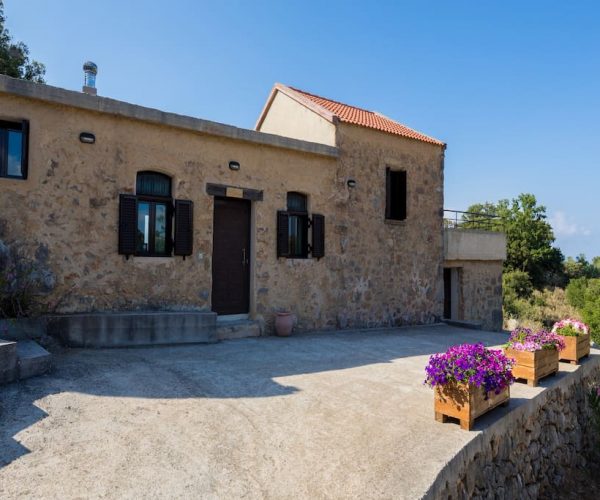 Cretan Stone Villa with mountain view
The house can host 5-6 persons. It is at a quiet part of village Kampoi and it has a gorgeous view of the mountains.
Check out What they say about us!
Wow, what an amazing home and wonderful host! Thank you Michail for accommodating our one night stay at such late notice. It was such a pleasure meeting Michail- he was so humble and hospitable. He met us at the house and gave us the history of the house which was build by his grandfather. He also gave us a small gift of homemade olive oil and traditional drink. The house is super clean and decorated nicely with a rustic touch. Words cannot express the peacefulness and amazing views of the area nestled in the mountains. At night the stars seem so close and plenty you could almost touch them with your fingertips. The neighbors were also very welcoming upon our arrival. We recommend this sanctuary 100%. Wish we could have stayed longer!
Mihail's house is designed in a rustic style, simple though fully equipped, and it was exactly what we had been searching for. It is only half an hour from Chania in the hills and was a perfect base for us, with peace and quiet, and relatively close to famous beaches and canyons for visiting. It was such a pleasure to wake up in the mornings only to the sound of birds singing, with the option to sit outside to enjoy our morning coffee on the terrace. Mihail was a wonderful host, and such a kind and warm person. He was always available should we have needed something, and it was such a pleasure to sit and chat with him about the great outdoors and trekking and hiking which we both enjoy. I warmly recommend Mihail as a host and his house for a calm and comfortable stay near Chania, and we look forward to staying with him again in the future.
We spent Christmas next to the fireplace, in this lovely cottage house, in this quiet village. Everything was great, very relaxing. Michail was very helpful and quick responding to everything we needed. All rooms are air conditioned, and the view is magnificent, especially during this season when the mountains high above are snowed. We had a lovely time, I would like to return in spring or summer time in order to enjoy the beautiful verandas as well. Thanks Michail.
This house is full of wonderful very peaceful vibes. Built by Michail's grandfather and reconstructed to be more convenient by Michail it keeps spirit of old times and makes your stay truly comfortable at the same time. View to mountains, sunset, endless star sky, listen to lovely silence and cicadas, go to taverna Limonia between nowhere but nearby where we were single guests (get there honey, feed a donkey, enjoy every square meter of the house and fall in love:) Ah! There are also pomegranats and apple trees in the garden! Huuuuge thank you, Michail, we really hope for longer meeting next time:)
Michail's Villa Lithari in Kampoi is beautiful, inside and out. We found it very comfortable and relaxing, and Michail was very warm and welcoming, taking the time to meet us, show us the place and tell us about the area. We highly recommend a stay at the Villa, and would happily return on our next trip to Crete.
Michail's house, Lithari, is a beautiful, relaxing place to stay. The terrace has wonderful views of the white mountains and the house is beautiful throughout. The kitchen was well equipped. The whole house was very clean. Michail provided delicious local honey, olive oil, bread and raki for us when we arrived. Michail was very easy to communicate with. Every time we contacted him he responded very quickly and was very keen to so everything he could to make our stay as pleasant as possible. For example we noticed in the photos there wasn't a table and chairs on the terrace which we could easily eat at, so he arranged for one to be there when we arrived. He went out of his way to help us with other things too, such as helping transfer some CDs onto our laptop. Michail was very helpful in recommending local places to eat and find supermarkets and local beaches etc. The local taverna ~ Aetofolia in Samonas ~ has excellent food and is great value. We also really liked Kournas Lake. Overall Lithari is a very relaxing place to get away from it all and explore Western Crete. We woke up each morning to the sound of the cicadas. Thank you for making us feel at home.
Contact Information
Feel free to contact us for any question. On call 24/7. A welcome meeting with all the necessary information will be provided.